Three Fabulous Settings with Panoramic Views of Dubai
The Taj Jumeirah Lake Towers Dubai Executive Club Lounge opens from 8am to 9pm daily. Located on the fifteenth floor, this Executive Club Lounge offers three sittings throughout the day with panoramic views of Dubai.
Club Levels guests can enjoy:
Breakfast from 8 am to 11 am.
Afternoon Tea from 3 pm to 5 pm.
Evening happy hour with canapés from 6.30 pm to 8.30 pm.
Children are allowed in the Executive Club Lounge when accompanied by an adult without any restrictions. The hotel also offers babysitting services so you can have a lovely romantic meal or take a much needed break. Children's meals are available, ensuring the whole family enjoys their Executive Club Lounge experience.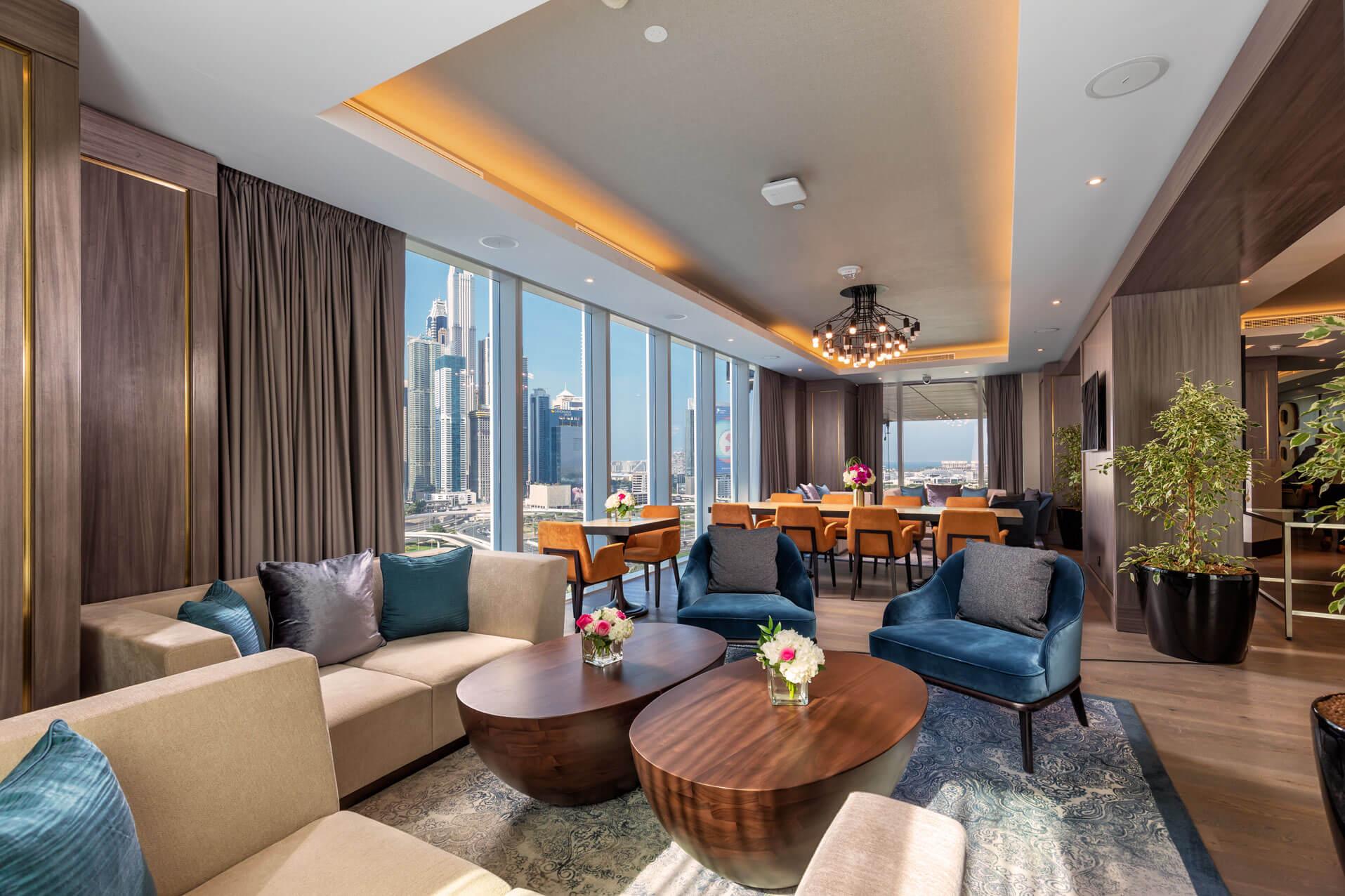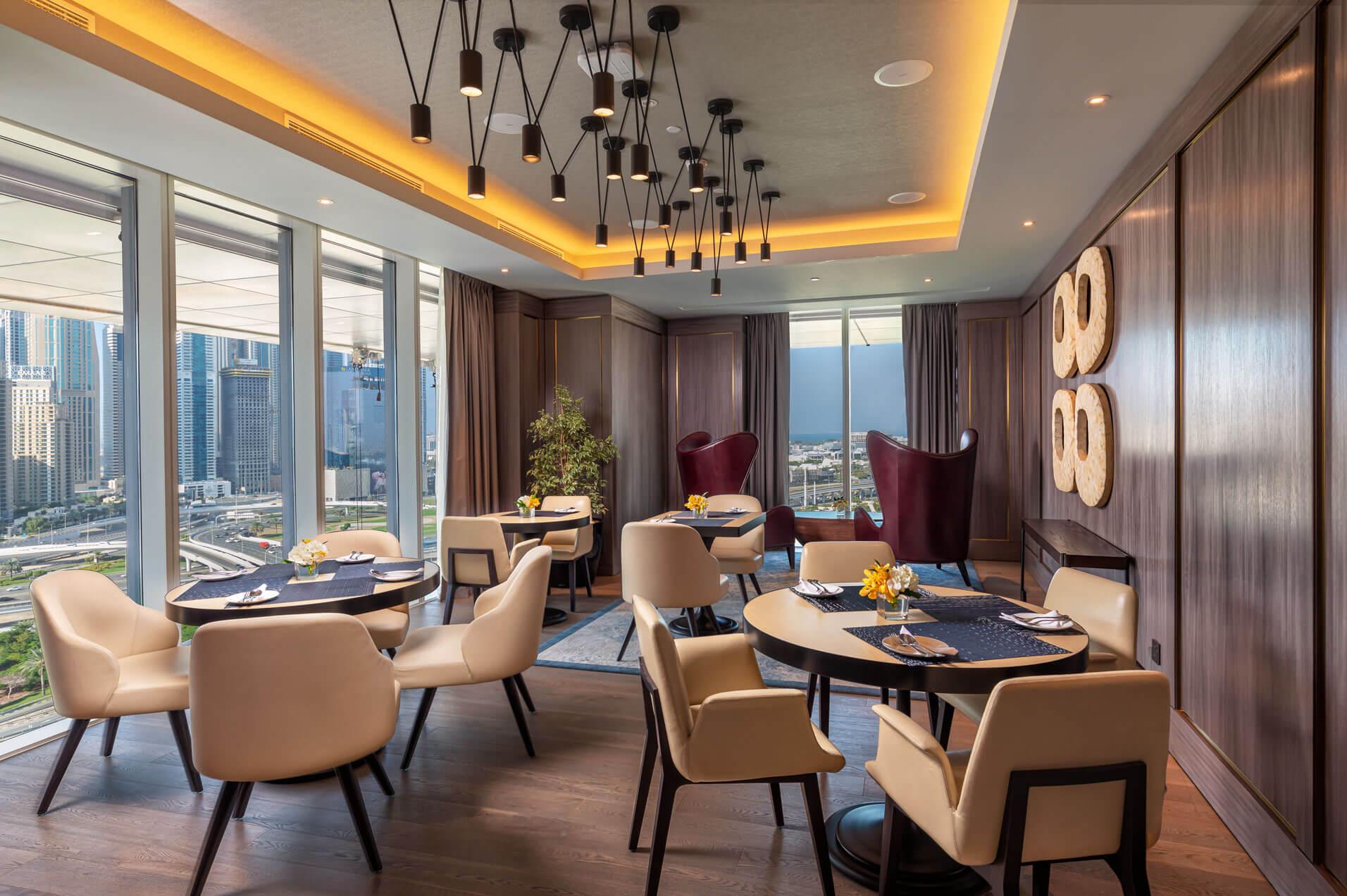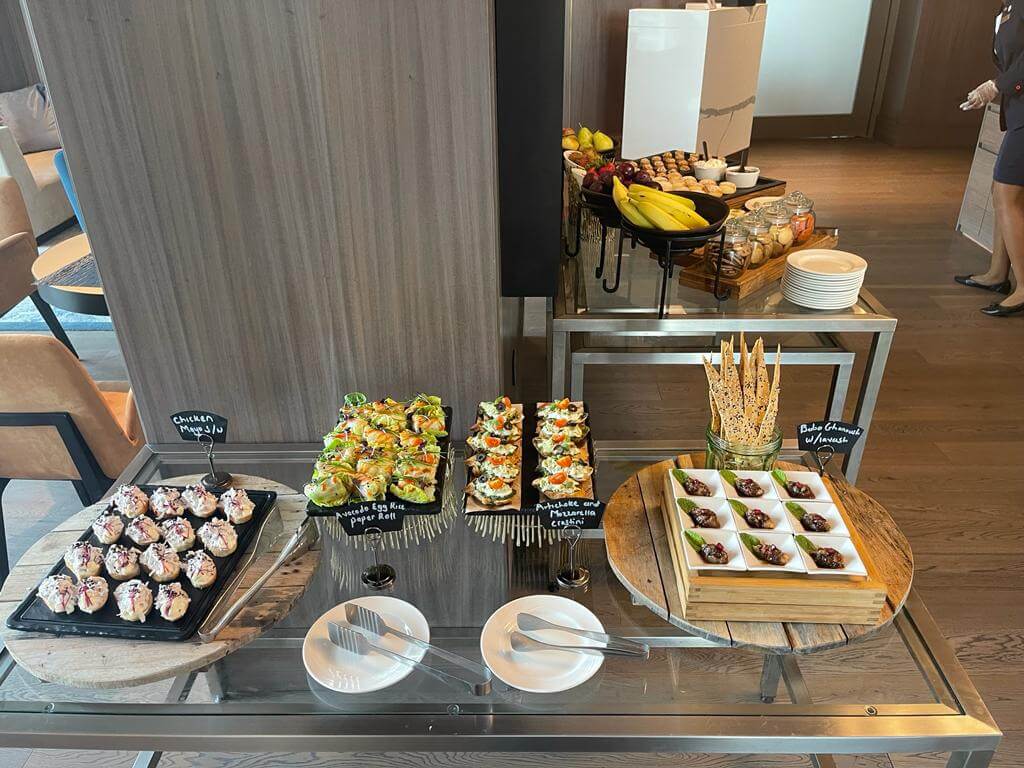 Friendly Service with Delicious Food
While the Taj Jumeirah Lake Towers Dubai Executive Club Lounge is smaller than the club lounges in other hotels, it does not disappoint with friendly service and delicious food. Comfortable sofas and tables are strategically placed to take advantage of the Dubai skyline views.
Afternoon tea comprises of a selection of scones, desserts and sandwiches with three hot dishes and cold dishes, with dessert offered for evening meals. They cater to all dietary requirements and will prepare something special for those that are vegan, vegetarian, lactose and glucose intolerant.
The team go out of their way to assist their Executive Club Lounge guests, always with a smile on their face and no task too big or small. Service is prompt and professional. The lounge is not very busy, so there are no unwelcome delays when it comes to service.
The food is good quality, fresh produce and authentic with different evening canapés each night. While the lounge is smaller than expected, the offerings are good. Special meals can be prepared for children, along with a team of experienced professionals who can assist with advice and recommendations on sightseeing, tours and airport transfers, if necessary.
Being located on the fifteenth floor, you have the opportunity to sip your evening drink before your meal, gazing at the Dubai skyline as the sun sets. The height of the Executive Club Lounge gives you a birds eye view of below, enabling you to sit quietly and relax, complete some work or post your photographs to social media using the lounges complimentary wireless internet services.
Club rooms and Executive Club rooms all enjoy the convenience of free wireless internet for up to four devices. The multilingual team speak up to five languages, making all visitors stay seamless and enjoyable.