Top 5 Rated Luxury Family Friendly Hotels in Canberra
Enjoy your time with your family as you explore Canberra. The days will be busy, and you need a wonderful place to stay. The best hotels are family-oriented, comfortable, and upscale. They offer a luxurious experience and you won't mind sleeping away from home. With so many hotels in Canberra, you may not know which of them to pick. Our evaluations of them can help, as we have 5 of the best for you to take a closer look at!
Hyatt Hotel Canberra
This hotel was created in 1924, and maintains many of the original charms of the structure. The rooms and furnishings have been updated many times since then. This offers guests at the Hyatt Hotel Canberra a lovely place to stay with many additional benefits. The view is amazing and you will enjoy being able to walk to many of the attractions on your agenda.
The hotel offers two swimming pools, a restaurant, and tennis courts for your use. Babysitting is offered at this hotel, giving parents time to venture out on their own if they desire. Lake Burley Griffin is about a 15 minute walk, offering plenty of games, food, and activities in the water. This includes boating and fishing. The National Portrait Gallery is one of the best art museums in the country!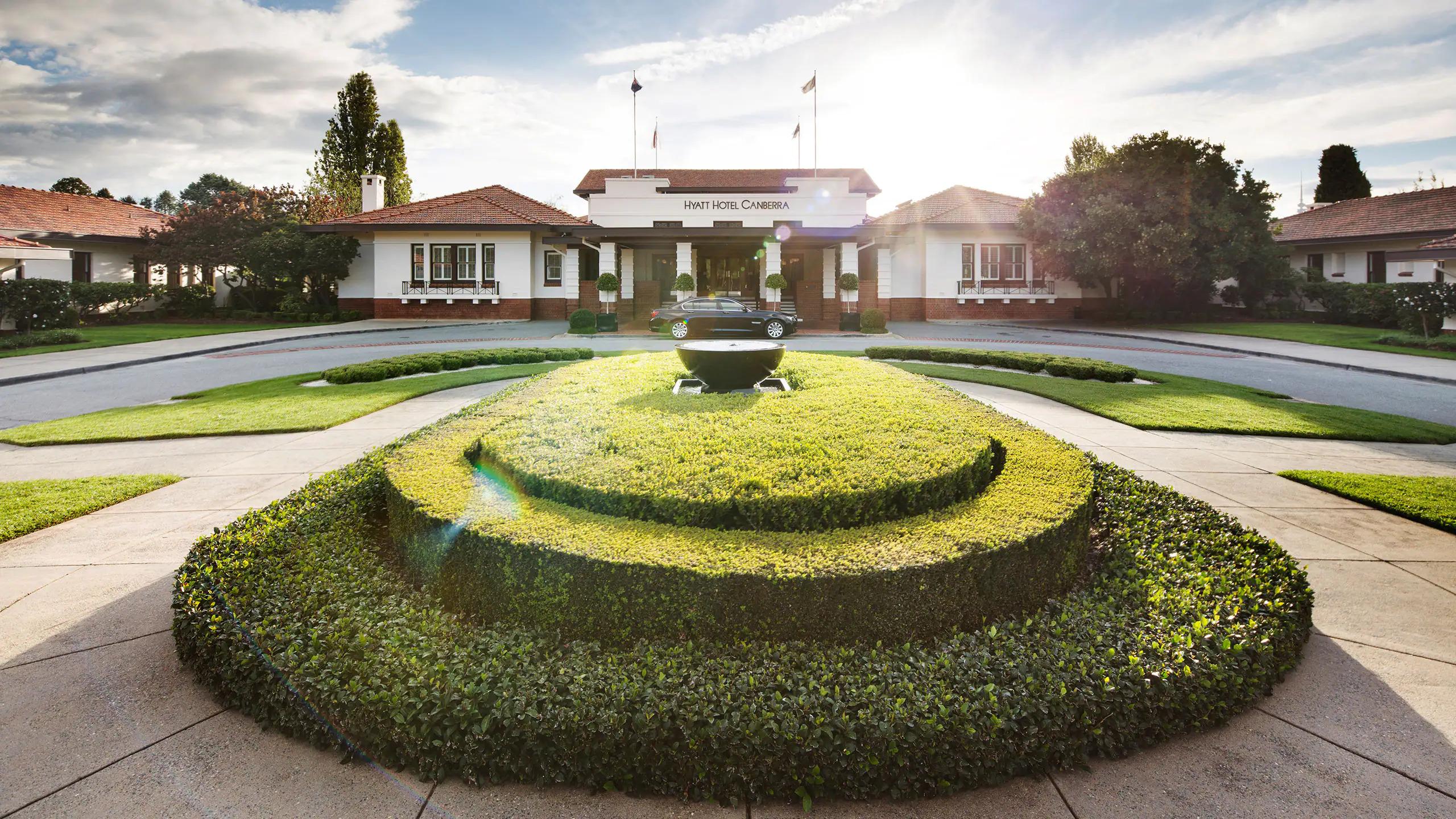 Image: The Hyatt Hotel Canberra is clean, comfortable, and provides a great location to visit different attractions in the area.
Hotel Realm
It is hard to beat the location of Hotel Realm, and you won't be disappointed with this luxurious place! There are 163 rooms, and if you need more space, consider asking for one of the suites. The hotel offers a delightful restaurant and two swimming pools. The plush furnishing in the rooms and lobby make it a comfortable place to relax.
Old Bus Depot Market is a fun place to explore with the family. You will find plenty of great deals at this flea market. There are wonderful food options and often entertainment too. Several art galleries and architectural buildings to look at are in this vicinity. The Realm Precinct area offers some of the best dining experiences. Parliament House is a common attraction, just a few minutes walking from the hotel.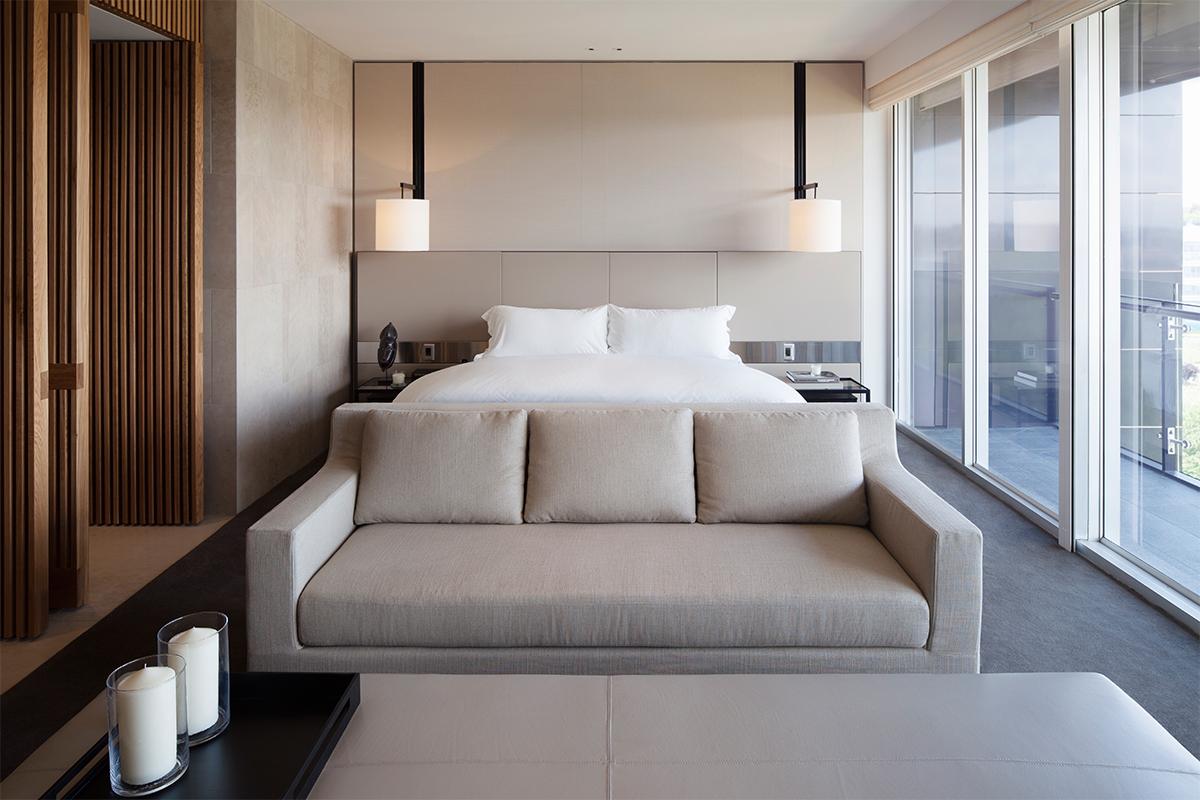 Image: Enjoy the lovely rooms at Hotel Realm, the view from the balcony, and easy access to places you wish to explore.
East Hotel
The East Hotel is a premium establishment, and families love the extra space they get when they stay here. Instead of your typical hotel room, you can stay in a one or two bedroom studio or apartment design. This ensures your family has adequate room to sleep, relax, and eat. The studios offer bunk beds and video game consoles, making it the ideal option for children to enjoy being away from home.
Many of the places you wish to explore are within walking distance. The hotel offers bike rentals, and that may be a fun option to add. Lilly Cooper offers a fun place to shop, eat, and engage in entertainment. Make sure you check out the events at the nearby sports complex and the stadium. You may be able to catch a fun sporting event or live concert while there on holiday.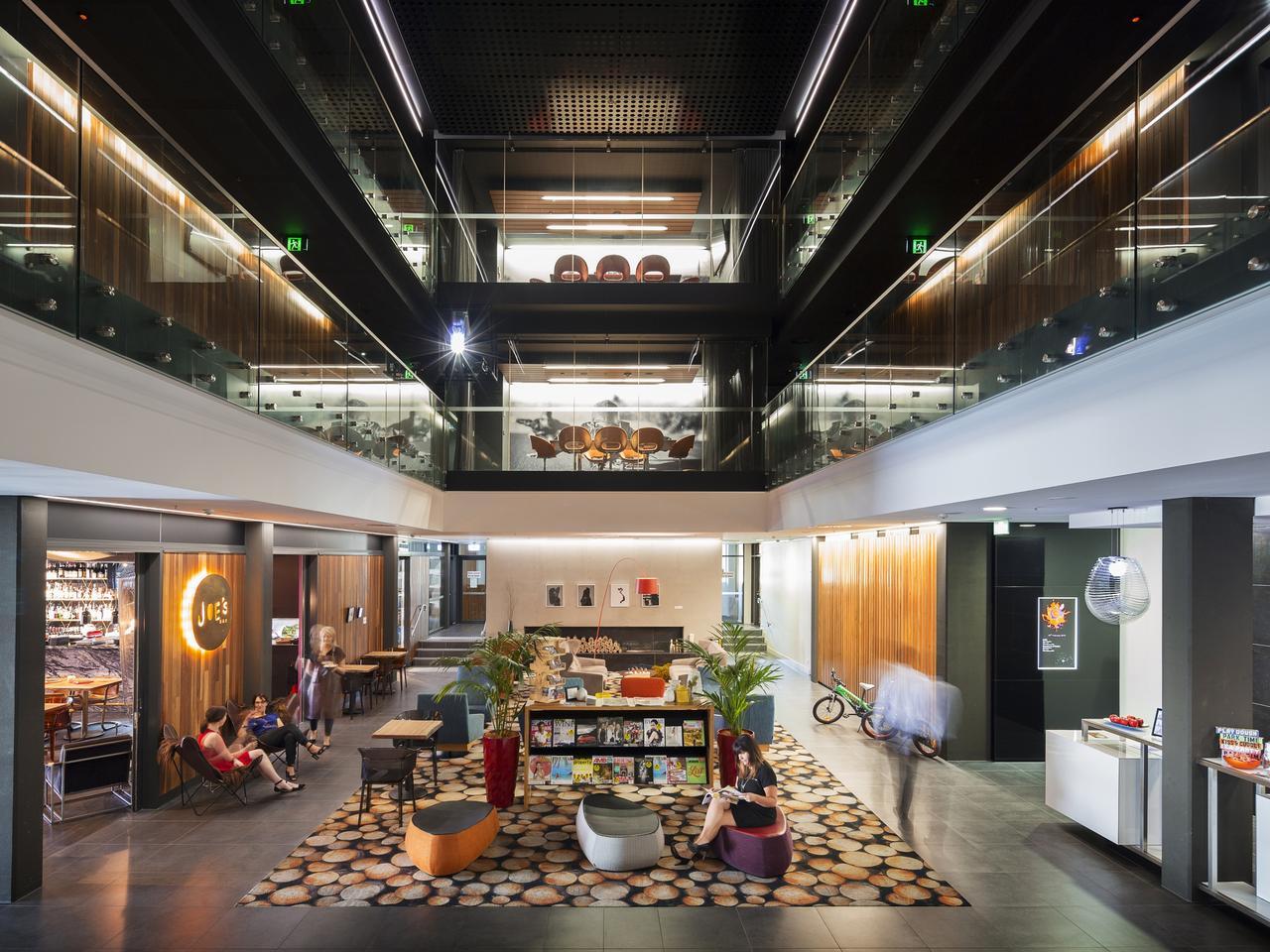 Image: The East Hotel offers a fun upscale place to stay with your family, there is so much to do around this location!
Deco Hotel Canberra
The stylish and lavish Deco Hotel Canberra offers hotel rooms or apartment style options with one or two bedrooms. It is a wonderful place to stay on holiday, especially with a family, no one wants to feel crowded in their accommodations. There are over 200 rooms at this hotel, but it has a charming and welcoming feel to it.
Haig Park is a short walk from the hotel, offering a great place for a family walk, time at the playground, and even a picnic. There is often live entertainment in the park. Corroboree Park is about a 15 minute walk but it also offers plenty for family time together. Numerous places to eat, shop, and see forms of entertainment are found in this area.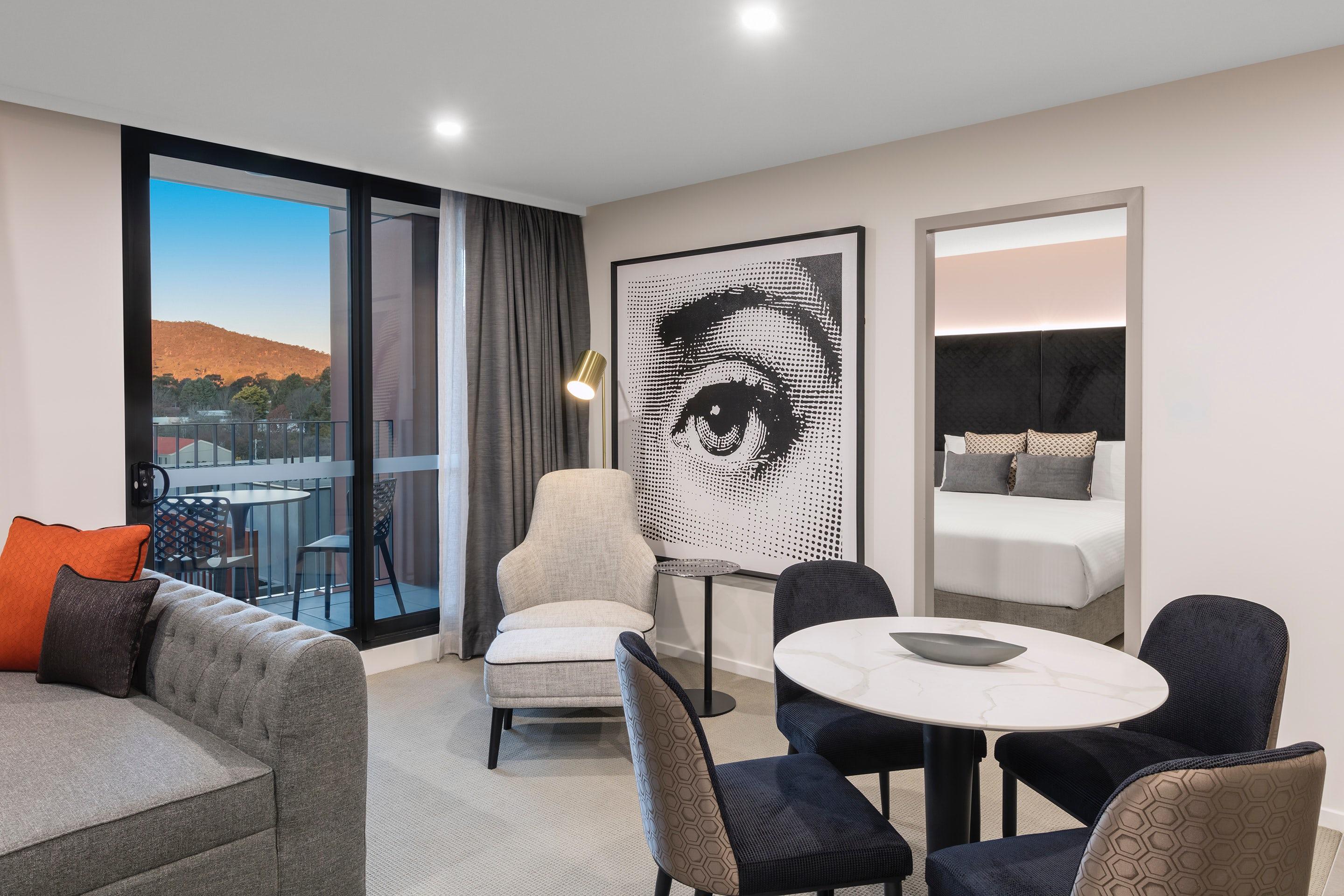 Image: The Deco Hotel Canberra is amazing, and offers plenty of beauty and space for your family stay.
Avenue Hotel Canberra
This hotel is in a prime location for shopping and dining. The Avenue Hotel Canberra gives you fast access to all of this in the Braddon precinct. The restaurant at the hotel has won numerous awards, you won't be disappointed with what you get there! Children's meals are also available so you don't have to worry about them liking the food either. Children's TV channels are offered in the rooms.
There are many parks, churches, and shops close to this hotel. An escape room can be a fun way for your family to challenge each other and work as a team. Check out Expedition Games Rooms about a 5 minute walk from your accommodations. There are many great places to eat all around the area if you wish to try something new.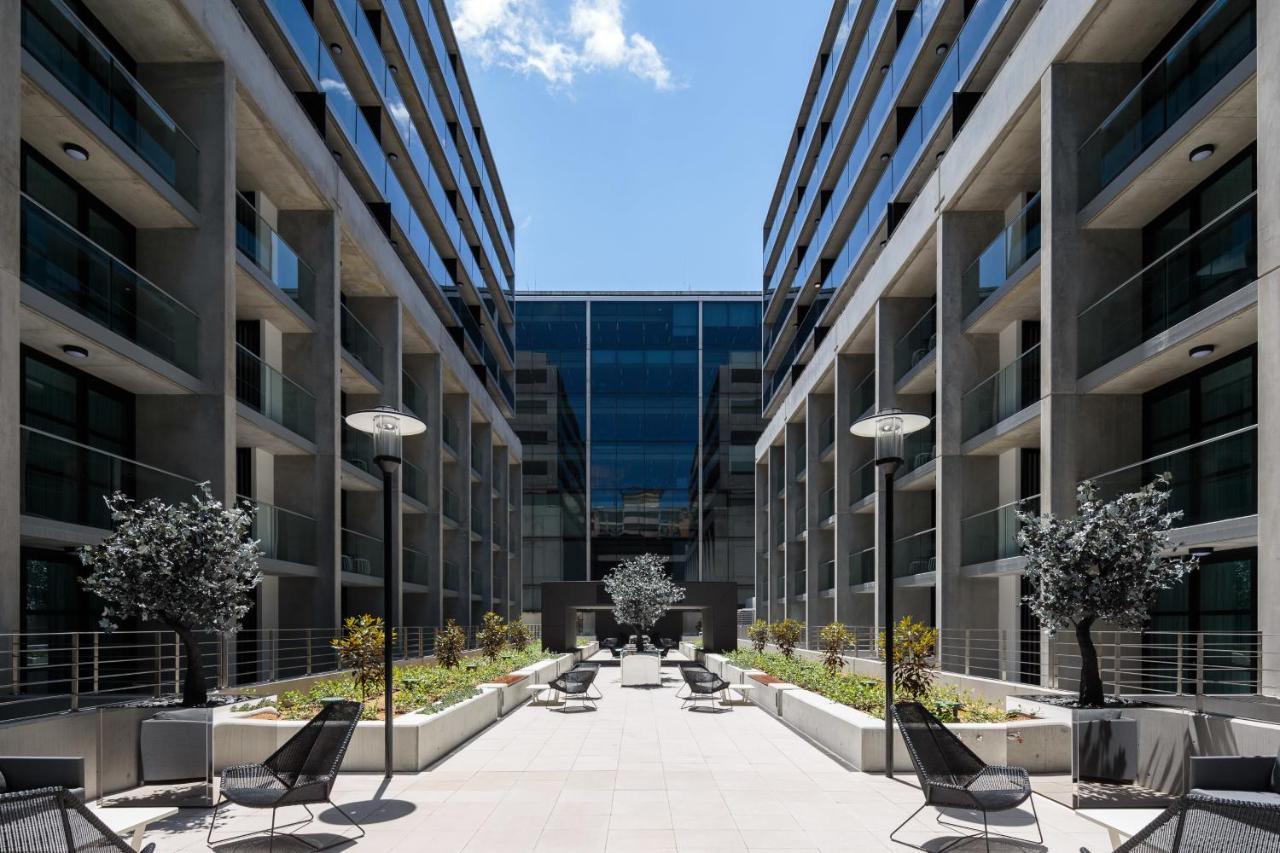 Image: The magnificent design and location of the Avenue Hotel Canberra offer accommodations your family will love!