Top 5 Rated Luxury Family Friendly Hotels in Paris
While many people find Paris to be the ideal place for couples, it is also a wonderful place to spend time with your family. Deciding on your hotel shouldn't be something you do in a hurry. There is wonderful luxury, family-friendly accommodations offered. Get a great deal on one and know your family will love it! We evaluated many such hotels, and these are our top 5 picks.
Hotel Grand Powers
Guests from all over the world have stayed at the luxurious Hotel Grand Powers. It was established in 1920 and many renovations and upgrades have occurred since then to continue offering an exceptional stay. It has very large windows, offering an amazing view of the surrounding area. The rooms are comfortable and elegant. The hotel features a restaurant with great food and a coffee shop.
Several of the historical walking areas, including Champs-Elysees, are very close to this hotel. Avenue Montaigne offers various landmarks and points of interest just a few blocks away. There are plenty of shops, restaurants, and live entertainment all around this location. Treat your family to a fun night with a dinner theatre at either Crazy Horse or Lido De Paris.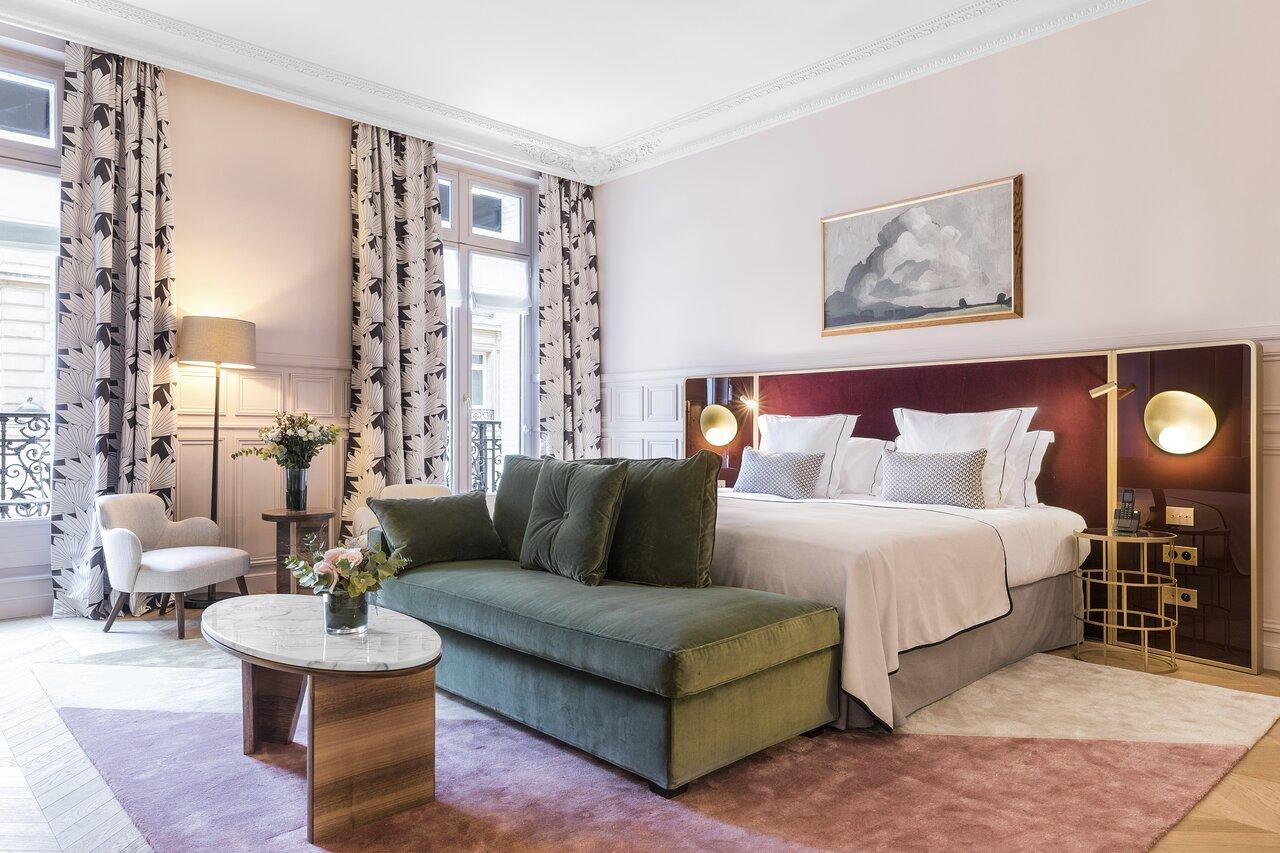 Image: Hotel Grand Powers is everything you imagine a luxury hotel for your family to be, no one leaves disappointed!
Le Narcisse Blanc Hotel & Spa
This hotel is close to fine dining, great shops, and popular attractions. You can walk to the Eiffel Tower or Louvre Museum in a matter of minutes from the Le Narcisse Blanc Hotel & Spa. The lovely hotel is clean and quiet, very comfortable. There are two swimming pools and a nice restaurant.
Rue Cler is a great place to spend a day, this is the flea market, and you will find one of a kind deals. There is also delicious food here. Just a few blocks away are various historical sites, in the area known as Esplanade des Invalides. There are also two military museums in this area, offering a deep history and plenty of learning.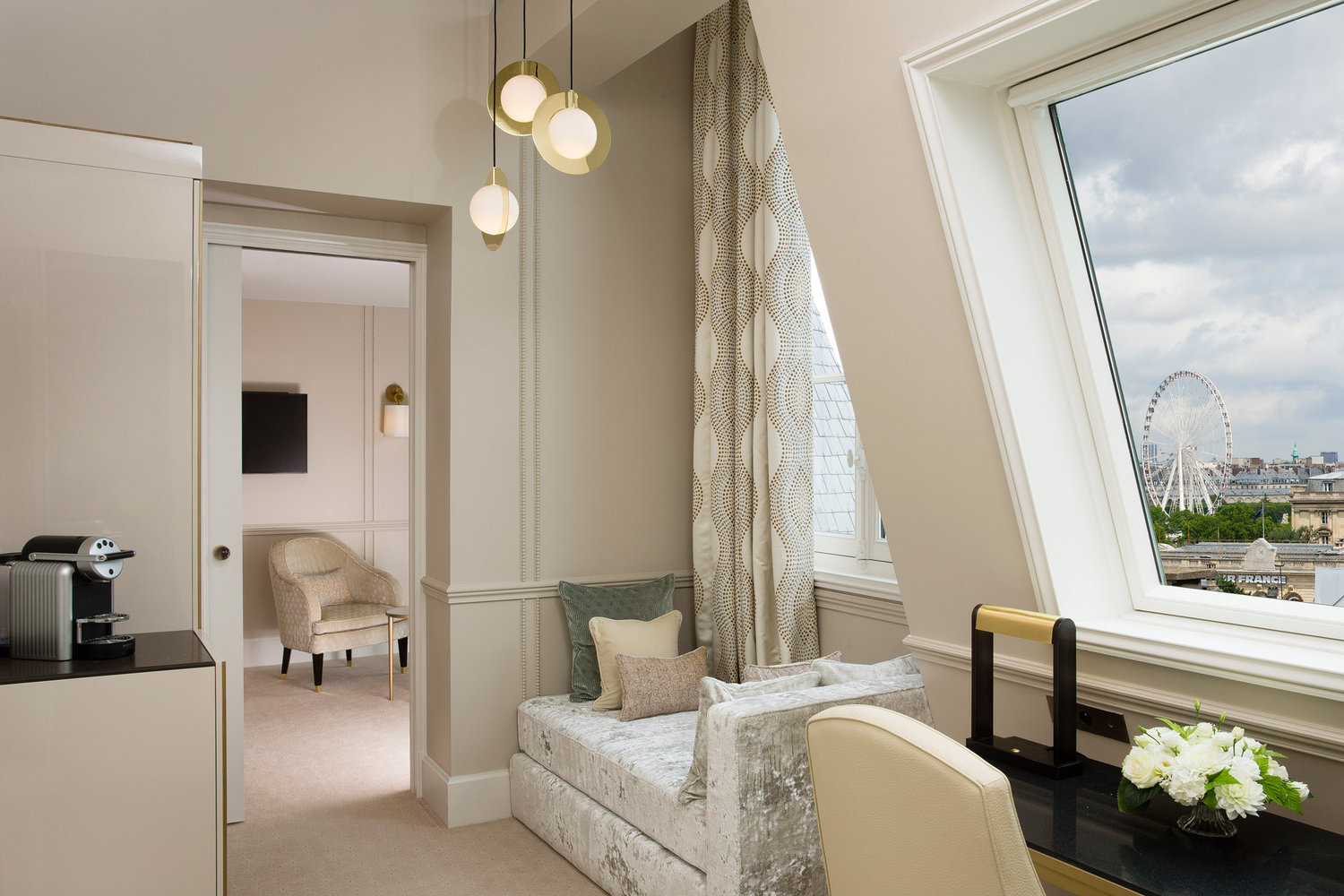 Image: The amazing rooms at Le Narcisse Blanc Hotel & Spa are delightful and offer a great view of Paris.
Hotel Elysia
Your family will feel welcome at the charming Hotel Elysia. The décor is appealing and the rooms are large. The hotel has a fantastic restaurant and there are plenty of places to dine in the area. You will find unique shops and live entertainment all within walking distance of your accommodations. Childcare services are available at this hotel, giving you time for a show or a quiet dinner alone.
There are several dinner theatres and specialty museums in the area. Reservations are encouraged for the dinner theatres as they book up fast. There are a couple of historical walking areas where you can leisurely check out landmarks and historical information.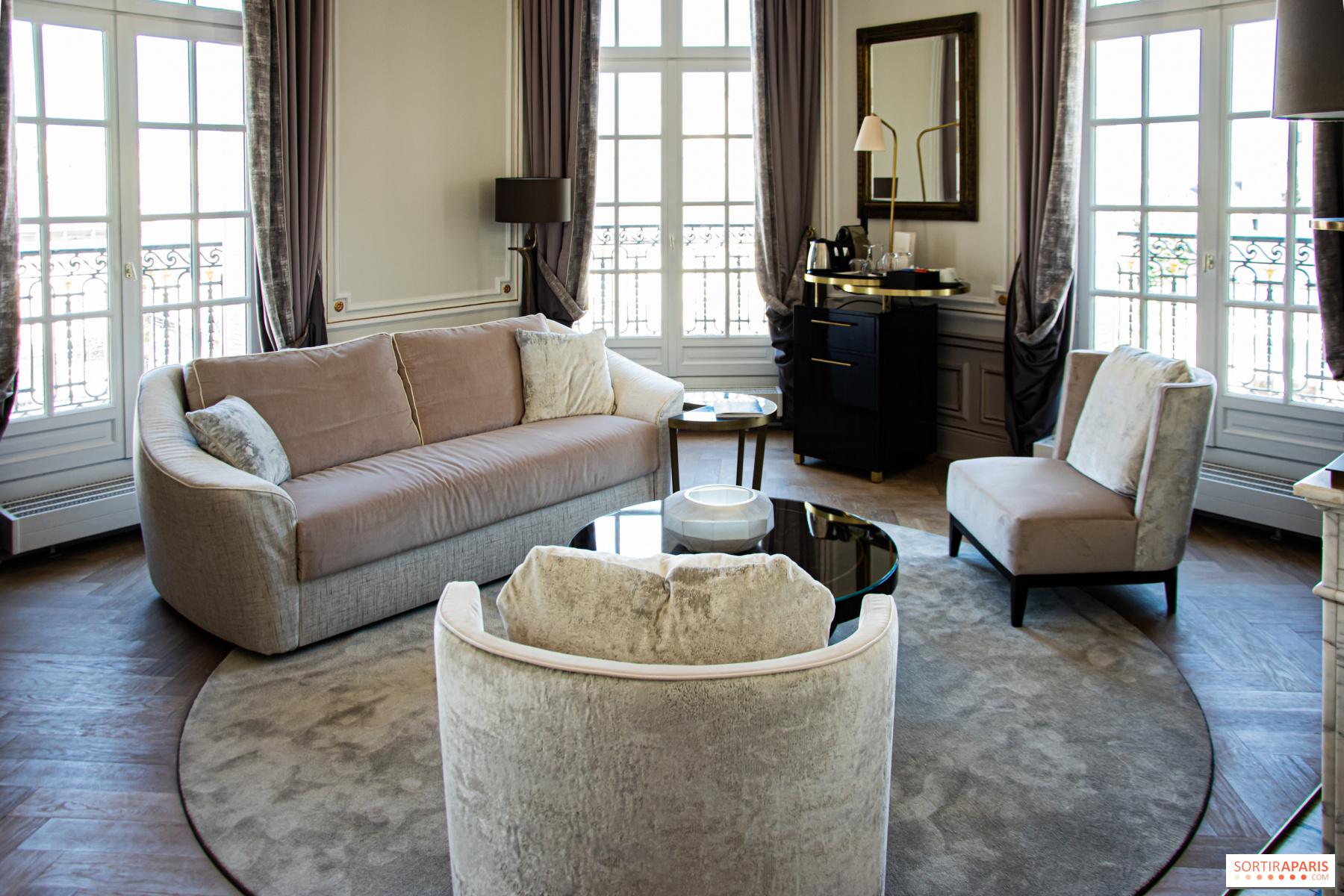 Image: Great detail is in the décor and furnishings of Hotel Elysia, and the view is amazing too!
Grand Hotel du Palais Royal
There is plenty to rave about with the Grand Hotel du Palais Royal, but the lush gardens are hard to beat! It is calm and relaxing to spend time walking through them or viewing them as you enjoy a meal. You can be in the heart of the city when you stay here, but also have a peaceful environment. The hotel welcomes both children and pets. Children's TV programs are offered in the rooms.
Several walking tours are close to the hotel, offering a great way to explore the area. Lock Academy has a variety of escape games, they are perfect for the family if you have older children. The Panik Room offers plenty of games and other forms of entertainment the family will enjoy.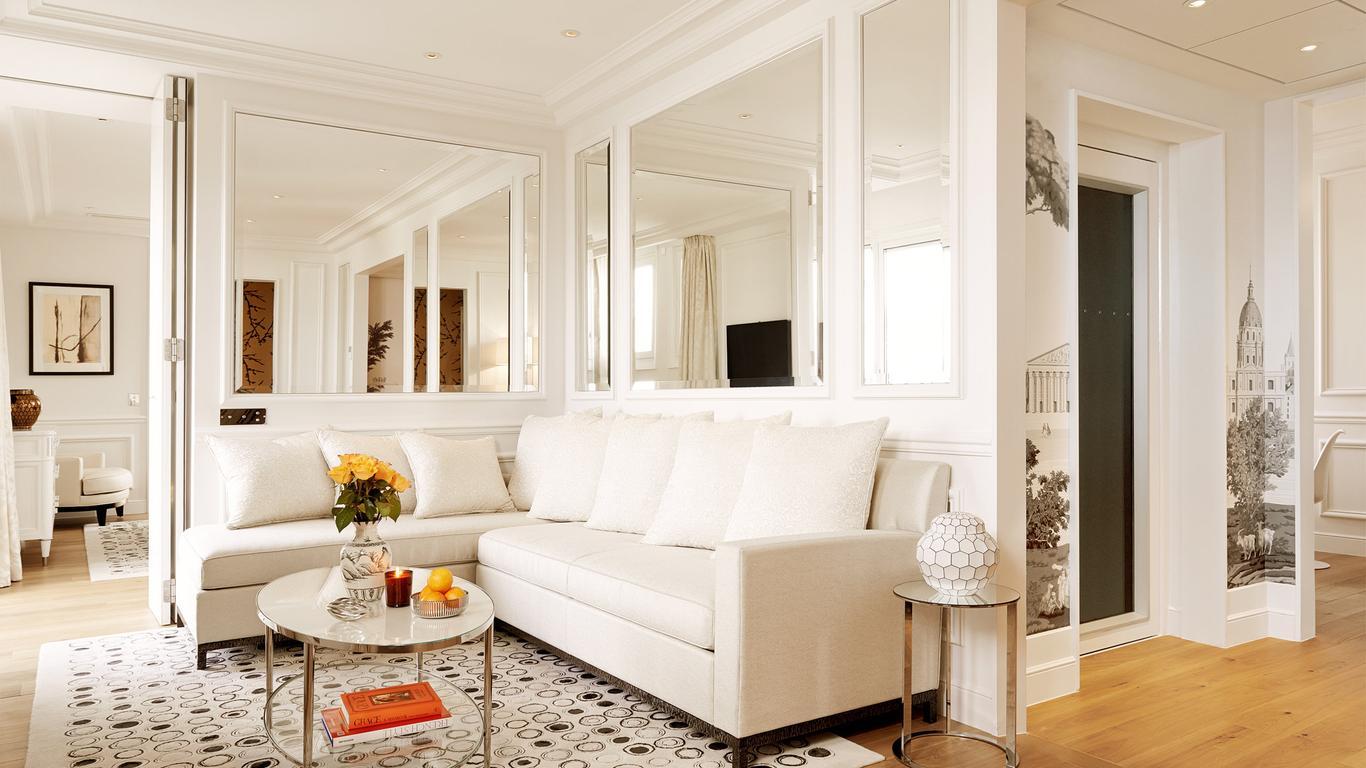 Image: Your family will enjoy the plush furnishings and the wide open spaces at the Grand Hotel du Palais Royal.
Fauchon L'Hotel Paris
You won't want to go home once you see your room at the Fauchon L'Hotel Paris! The luxury accommodations are very inviting, and your family may decide to stay in and relax at times rather than venturing out to explore! The hotel has delicious food, two swimming pools, and pets are welcome.
Several popular sightseeing tours are a few blocks away, and the ideal way to see as much of Paris as possible. There are several specialty museums, and each of them takes about a day to get through at a leisurely pace. Le Triangle offers fun escape rooms with the entire family pitching in to solve the clues. There are great places to shop, eat, and watch live entertainment around this location.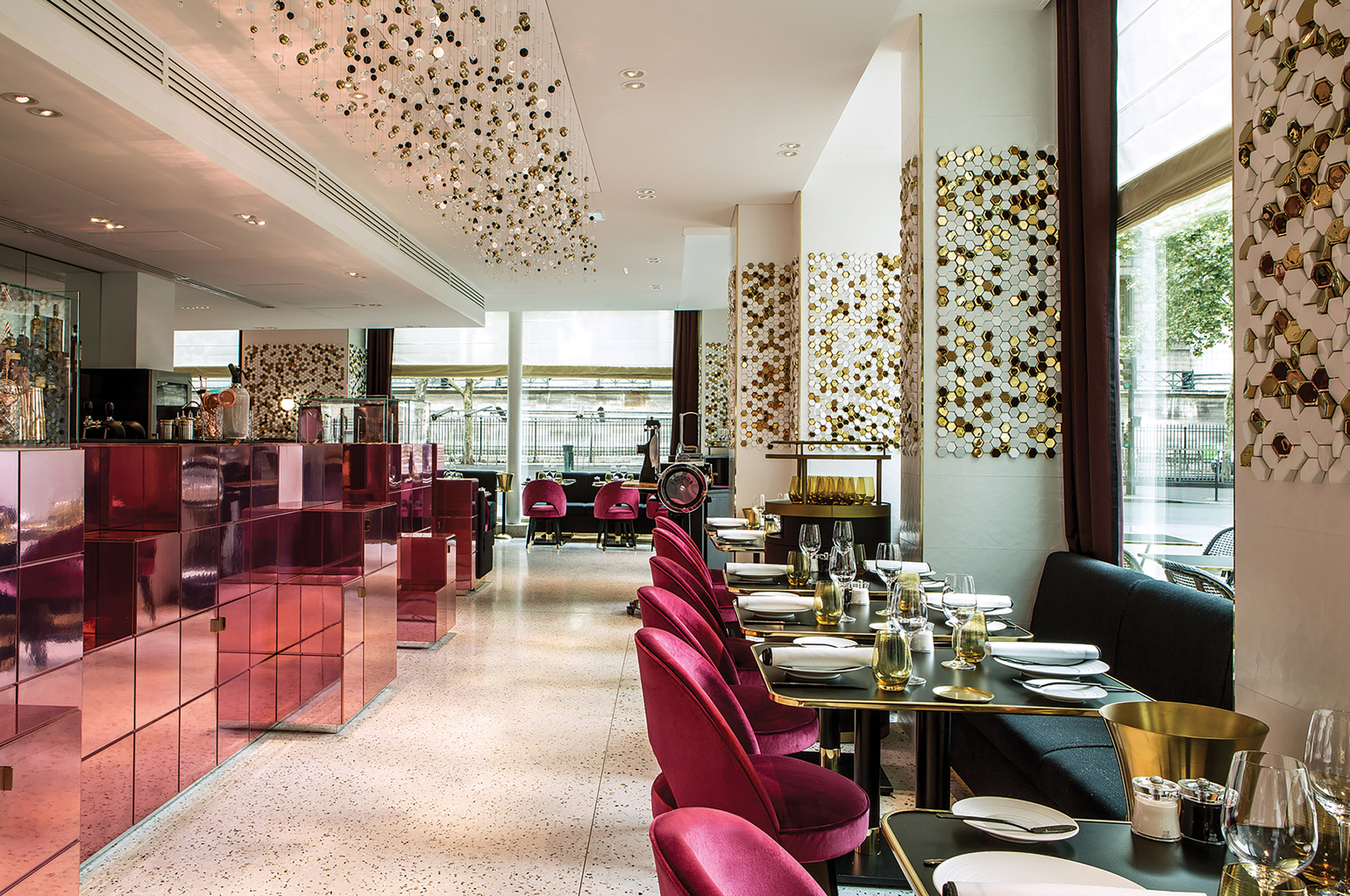 Image: Fauchon L'Hotel Paris is beautiful inside and out, and offers remarkable perks you will love during your stay!