The Executive Club Lounge is located on the 25th floor where guests report for their checking-in service, exclusively offered in the Executive Club Lounge to visitors that have booked this level of stay. Focus is on tailor-made service and personal attention, with an undertaking by Amwaj Rotana Executive Club Lounge to always be available to Executive Club Lounge guests who may have special requests, such as dietary preferences. Timings for the benefit of guests follow here below:
Breakfast is served from 6:30 am until 11 am.
Afternoon Tea is offered from 3:30 pm until 5:30 pm.
Evening canapés can be enjoyed between 6 pm and 8 pm, which includes a choice of alcoholic beverages.
Throughout guests' stay they are welcome to use the Club Rotana meeting room on a 1-hour complimentary basis, with prior booking for this facility required. They are offered assistance with faxes, photocopies and printing, and they are ensured of special treatment and high levels of personalised service at all times. Guests have access to complimentary internet at the computer stations in the Executive Club Lounge. Children younger than twelve must always be accompanied by parents. Dress Code is Smart Casual, which means slippers, bathrobes, bathing costumes and inappropriate clothing are not allowed in the Executive Club Lounge.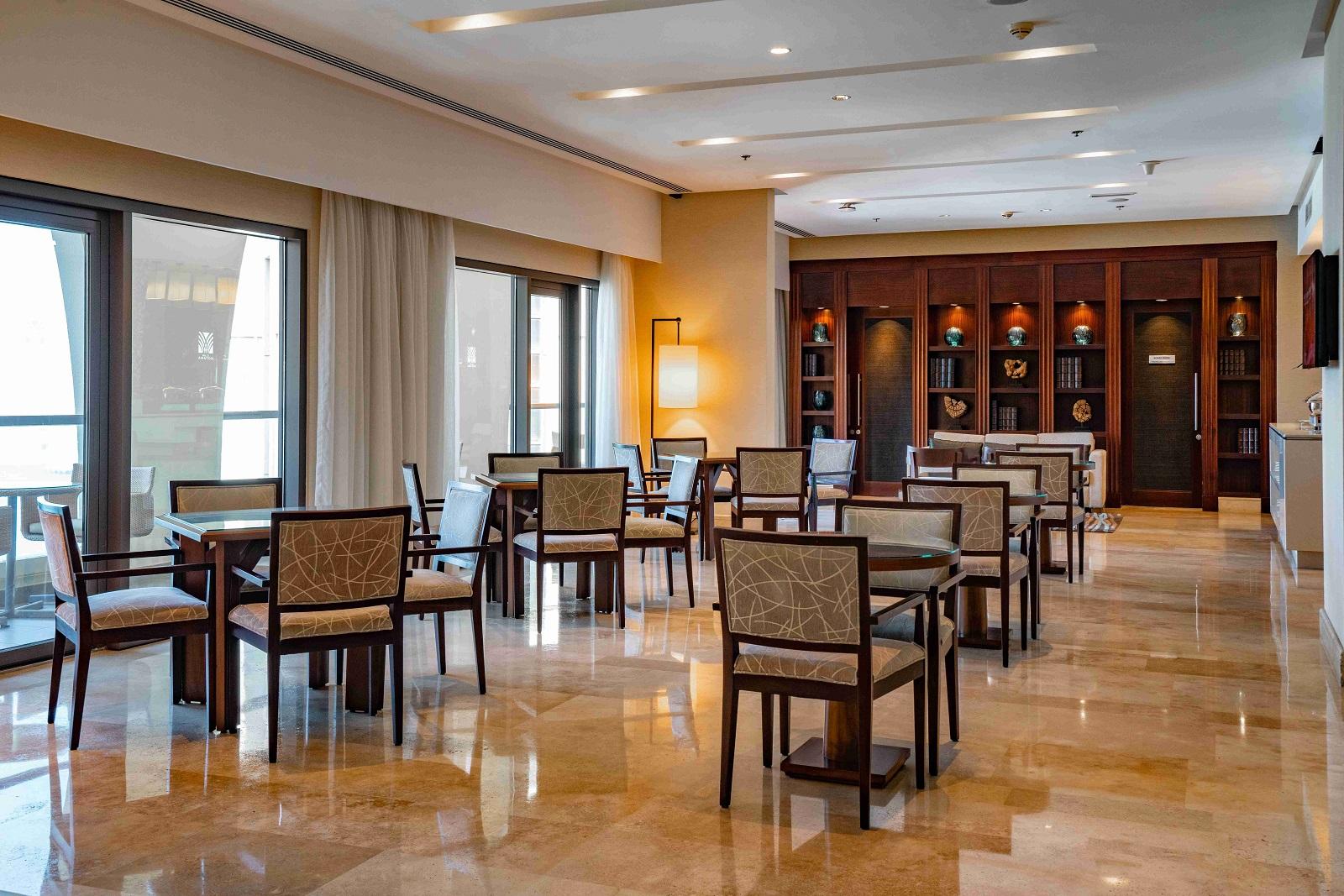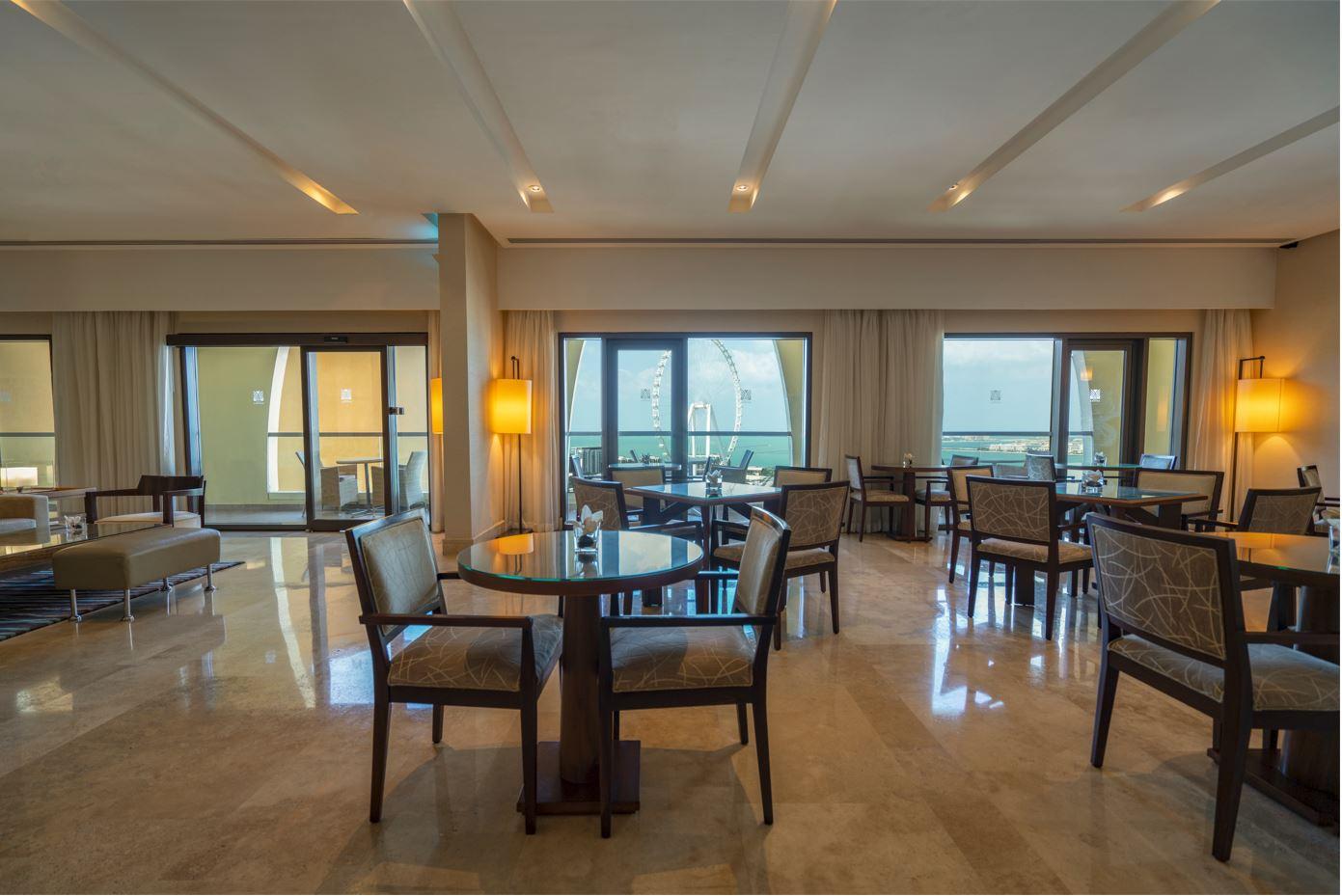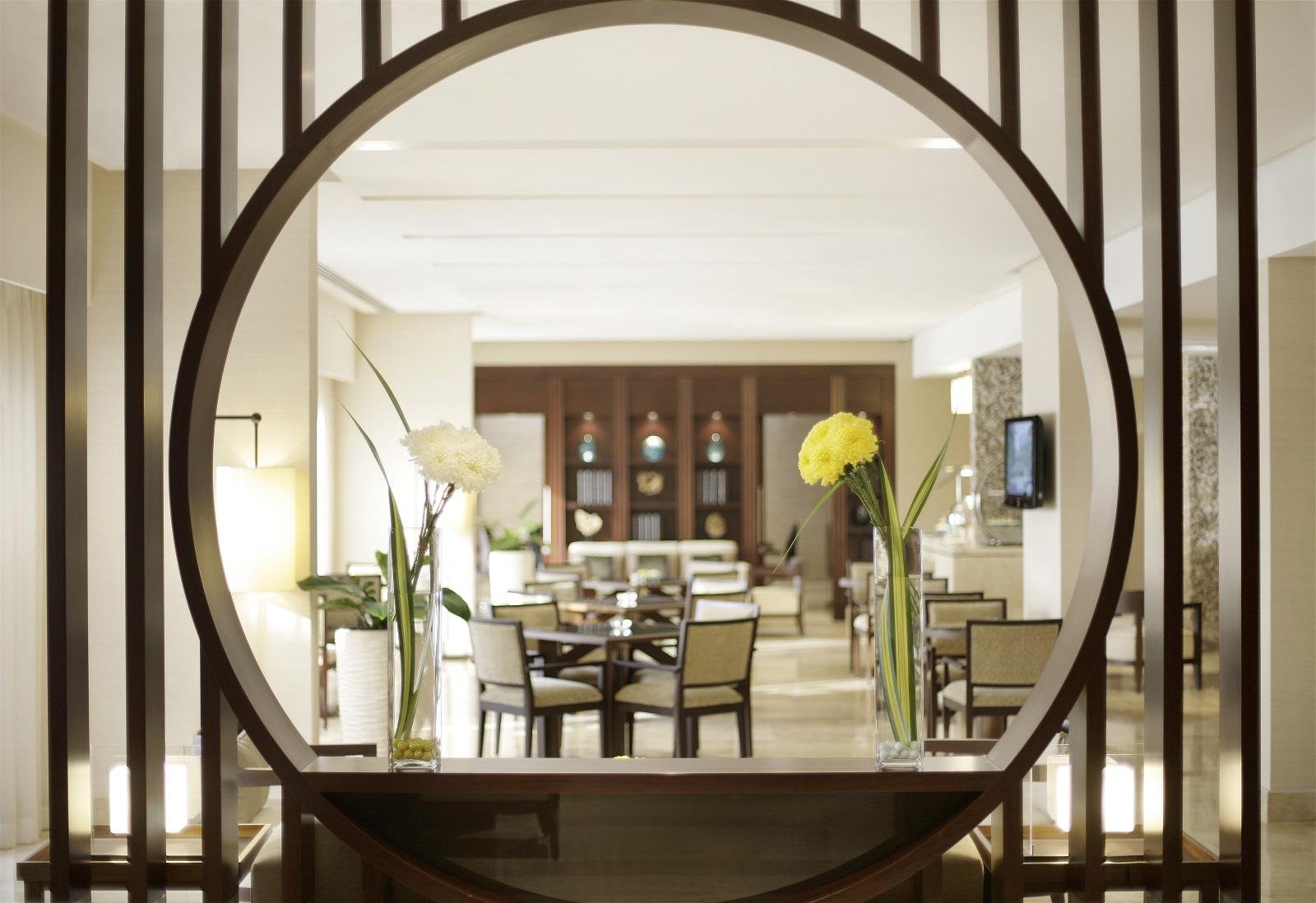 Personalised Service and Attention at the Executive Club Lounge
Guests with Executive Club Lounge access at Amwaj Rotana enjoy different highly personalised privileges from the moment they check in. This includes a complimentary drink upon arrival. They are entitled to receive a wake-up call every morning, they can count on management and staff to consider every reasonable request for assistance throughout their stay, and when they visit the Executive Club Lounge, they can expect to be treated in a friendly manner. Staff that serve them are experienced and well versed in terms of offering personalised service, right from serving drinks and treats to assisting with advice about the hotel and the surrounding region.
Luxury in Tranquil Surrounds
The Executive Club Lounge guest is spoilt to some marvellous sea views from the floor-to-ceiling windows. Plush furniture in which to sit back and relax, is a welcome feature. The space is tranquil and ideal for those times that guests want to unwind after a busy day. The Executive Club Lounge is a lovely haven where guests can switch off and enjoy being served by experienced staff that go out of their way to please and assist. Gleaming floors, clever use of soft lighting and lovely decorative touches add to the total experience that ensures that the Executive Club Lounge guest at Amwaj Rotana will feel pampered and special.